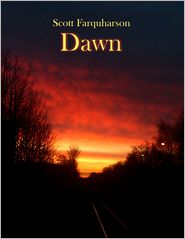 Buy it:
Kindle
Kobo
Barnes and Noble
Add it:
Shelfari
GoodReads
This is a large collection of a wide variety of poems. The first section, Colours, introduces you to the collection where he has many different poems with titles of different colors. Each color, he describes what that color means to him, or what he thinks and how it relates to each color. My favorite section was the chapter named Nature. Scott writes beautiful poems about the nature around him, how he views it and what it means to him. I thought they were beautifully written.
I liked how he separated the poems into chapters according to what each poem was about. Scott clearly has a talent for writing poems, because I greatly enjoyed each one.
I'd have to say my favorite is called Recovery from a superpower and Reason to soldier on. They show the authors true talent and shows how much emotion he throws into each of his poems.
There were a few spelling errors, but not enough to distract from the beauty of the poems. I enjoyed reading all of Scott's pieces and would rate this book a 4/5.

Add me on