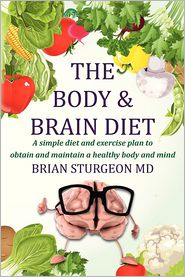 A simple diet and exercise plan to obtain and maintain a healthy body and mind
Buy it now at at
Amazon
Barnes and Noble
Brian Sturgeon tells his story about how he lived a care free, gluttonous, and slothful life. He also goes into great detail and directions on how he turned his life around. He directs you into the right path of living a healthier life by using your mind as a motivational aid. His instructions are clearly written and easy for everyone to understand. 
There are also some great examples of food that you can cook for dinner which is also very useful. 
In addition to all the great advice including food, he also discusses exercises that are easy enough and can be done in a short amount of time. This also increases how happy you feel throughout the day. 
This was a fun and informative book to read, and I recommend it to anyone who wants to start eating, exercising, and feeling healthier. I would rate this book a 5/5. 
Add me on