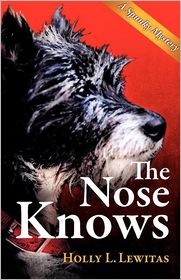 Buy it now at
Barnes and Noble
Nook
Amazon
Kindle
Add it to Good Reads
My Review
This is the second book that I have read that is from the perspective of a dog. Although it's a bit unusual, I enjoyed the cute stories of Spunky and all the other creatures throughout the book. 
Immediately you'll be hooked to the warm and loving terrier named Spunky. Spunky lives with his family, a few cats (Fearless, Bobby, Sweetie and Fancy Pants), and his owner Hanna who is a psychotherapist in much need of a break away from her work. Things became violent with one of her patients, making her skeptical about returning back to work, she is determined to face her fears, and becomes more confident to do so with the help from her furry family. 
Since Hanna's husband had "passed over the rainbow bridge" her pets have become very protective and concerned about her well being. Animals truly are a humans best friend, and this story dives into Spunky's mind to explain his perspective on Hanna's life. 
The author does such a great job of getting into the mind of the animals, I imagine if dogs could really share their experiences and thoughts with humans, it would be a lot like the author described it to be. 
I could clearly imagine Spunky and the cats conversations as they plotted together to serve and protect their family.  
Each character was so heartfelt and loving, you couldn't help but become addicted to their story. It was absolutely adorable the connection Spunky had with her friend the black lab, named Quincy and his owner Jacob. Together Spunky and the cats plot to get Quincy's owner Jacob to become sweet on Hanna and so far their plot seems to be working very well. 
This was a great book with a combination of mystery, love, humor and excitement that had me turning pages all throughout the night until the book was finally finished. It is a true talent for the author to be able to write from the animals point of view so clearly and what seems accurately. This book  has something for everyone! An especially great read for any animals lovers out there! 
I give this book 5/5
Add me on