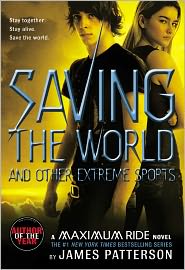 Help Support Stuffed Shelves and buy it now from Barnes and Noble or Amazon
Add it to your GR List
What is the book about? 
Max and the flock split up due to conflicting opinions about Ari. Angel, Nudge, Max and the mutant talking dog are in one group while Fang, Iggy, and the Gasman are on their own reaching out to other kids through Fang's blog.
They may figure things out while being separate but we all know they work best as one family flock.
What did I think of the book? 
Third book in the Maximum Ride series.  I immediately finished the same day I started School's out Forever. This series is so captivating, you will be hooked from the very first sentence I first read from book one "If you dare to read this story, you become part of the Experiment. I know that sounds a little mysterious - but it's all I can say right now."
This book has the most action compared to the others before it, and I loved it. Without giving up too much, I will tell you this much, Max really is saving the world with a little help from Fang and his blog. Patterson really takes you through an exciting ride that you won't forget.
I give this book