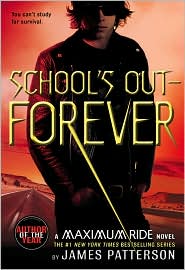 Help support Stuffed Shelves and buy it now from Amazon or Barnes and Noble
Add it to your GR List
What is the book about?
While fighting with the new and improved flying Eraser's, Fang is injured so badly that the rest of the flock feels they have no choice but to take him to a human hospital. Immediately he draws attention to himself, having wings and all, so the FBI is called in.
Anne Walker is the lead agent from the FBI, and makes an executive decision to take the flock back to her Virginia Farm house where she has more than enough room for the whole gang. She tries her hardest to get to know the flock, and be a parent to them. Anne even enrolls them all in school where they experience somewhat of a normal life.
That is until they realize what is really going on, and how much everyone betraying them. Trust no one. Stay with the flock.
What did I think of the book?
Another great book by Patterson. Nothing can keep these kids to stop them from saving the world and sticking by one another's side. This is a page turning, exciting sequel to the infamous Maximum Ride series.
As second in the series, Patterson only improved from the first book, and made me even more addicted to the series.
I give this book