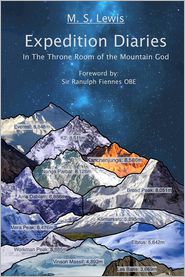 In The Throne Room of the Mountain God
This is a true story of a mountaineer who made his dreams, of climbing new heights, a reality. He has an amazing sense of drive and desire to finish his climbs, regardless of what obstacles come his way. I think that is the life lesson being portrayed here, and it's something we can all work on. Everyone has dreams, but not many seek to make them come true. Perseverance is really embellished here, another great quality that we, as the reader, need to work on.
It's a great book of personal achievements, that will hopefully give the reader a sense of motivation to make their own dreams come true. It's well written, with no spelling or grammar issues that I noticed, and it held my attention all the way through. The cover is great, showing the heights of each mountain climbed. It really is an amazing achievement when you look at the cover and see each how far he went. I give this book 5/5.
Barnes and Noble
Kindle
Amazon Paperback
Google Play
Smashwords
Shelfari
GoodReads