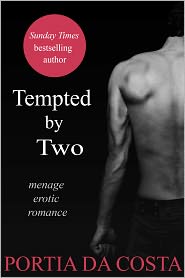 Warning this review contains sexual explicit material
Katie has been an admirer of Marcus Dane's work for a long time, ever since she'd been searching for a wedding gift for a friend, and happened upon print of one of his works. He was gorgeous, and very talented. His work made her blush, but in a very good way.
While out at one of his art shows, she runs into Marcus Dane himself, and gets to know him and what inspires his works of art, especially his newest piece, Tempted by Two, which is a painting of two men and a woman in apparent sexual chemistry.
It wasn't until Marcus extended an invitation to take her back home, did she start fantasizing about being in a rendezvous with two other men. Now that she has the opportunity, will she run for the hills, or embrace her sexuality and live life to the fullest?
Marcus and Owen are a bi couple who can appreciate the male and female figure for the sexual beings that they are. They open up their hearts and their bed to Katie, inviting her in with welcome arms. 
Katie eventually lets of go of her inhibitions and goes where her fantasies take her, with Marcus and Owen together. 
This is tantalizing tale of a girl going beyond her comfort zone and finding herself out in a threesome with two other men. This book goes into great sexual detail of all the fun they have together, and is not meant for any squeamish, prude minds. It's safe to say, you must keep an open mind while reading this book, and use your imagination to appreciate the creativity Portia Da Costa has written. i would rate this book 5/5 for an amazing sexual experience. 
Kindle
Nook
Smashwords
Shelfari
GoodReads