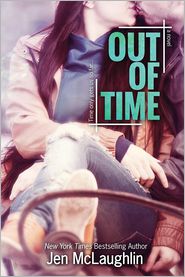 Out of Time begins where Out of Line ended, which was a huge cliff hanger. The mysterious phone call is finally revealed after much anticipation once I finished Out of Line. Carrie and Finn have opened their hearts and their secrets up to one another, but the only secret they keep now, is their relationship, from her father, the overprotective senator. 
In Out of Time, their relationship will be tested to a whole new level. Since their relationship is brand new, the very thought of being separated, is absolutely devastating. As a couple, they are polar opposites, she's a wealthy senator's daughter and he's a tattooed biker marine, but they have a connection that seems unbreakable. Finn is protective and caring, showing his true sensitive side, which will just melt your heart.
This book has it all, sex, heart break, secrets, romance, danger and suspense. You'll fall in love with Finn even more than the first book. The friendship and romance between Carrie and Finn will blow you away. You'll have tears in your eyes, and a knot in your throat, not to mention the sex scenes that will bring out your most dirtiest thoughts and desires.
I'm looking forward to more from Carrie and Finn. I give this book 5/5 just like I did the first one. If you have read the first book, you'll absolutely want to start this book immediately! 
Out of Time: 
Amazon Kindle
Amazon Paperback
Kobo
Barnes and Noble Paperback
Barnes and Noble Nook
Shelfari
GoodReads
Out of Line: 
Amazon Kindle
Amazon Papberback
Kobo
Barnes and Noble Nook
Barnes and Noble Paperback
Shelfari
GoodReads