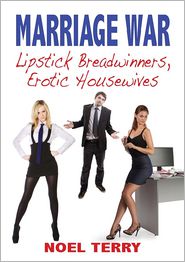 Lipstick Breadwinners, Erotic Housewives 
I was under the impression that this book would best suit anyone, but I believe it's target audience is the middle to upper class society and those who do not have to worry about their finances. I did learn a lot though, especially the difference between what women and men want, versus what they should be wanting.
As a woman, I can understand why it is believed that we want to be with a man who is successful, while leading a life that is happy and homey. In today's time, more and more men are finding themselves unemployed, which ends in living a single life, while searching for alternative ways of living. This includes, being a stay at home dad and leading the family as a role women were previously expected to fulfill.
Thus, the author writes of ways for a couple to share in their domestic equalities as a loving father and husband, while also being financially stable. There has been extensive studies done on this notion, and it's clear by the information given in the book. 
I found this book to be pretty hard to read. I don't like finding myself re-reading the same paragraph over and over trying to decipher what point is trying to be said. There were enough entertaining parts of the book to consider this an entertaining read. All in all I found it to be an enlightening read that taught me quite a bit. I give it 5/5. 
Kindle
Amazon Paperback
Barnes and Noble
Shelfari
GoodReads