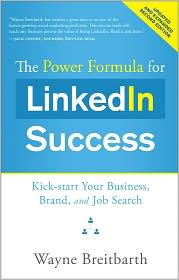 The Power Formula for LinkedIn Success
Kick-start your Business, Brand, and Job Search

Buy it now
Kindle | Amazon Paperback | Barnes and Noble | Nook | Kobo

Add it to your GoodReads and Shelfari
LinkedIn is the world's largest professional network with over 200 million members and growing rapidly. It is commonly known as "The Facebook for Businesspeople." LinkedIn helps you promote your products and/or services, to increase revenue, as a small business owner.
This book's purpose is to efficiently use LinkedIn to accomplish all your business goals. Learn why you should make a LinkedIn profile, and what the benefits are to having one. Some would refer to a LinkedIn profile as a "resume on steroids."This book is an aid to creating and maintaing your profile to get all that you can from the service.
This was so educational, as I did not know anything about LinkedIn previous to reading this book. I am excited to check out the website and make my own profile. With this book as my aid, I can't go wrong. It will guide you, as it did me, into the LinkedIn world professionally and efficiently. Overall I give this book a 5/5!

Add me on