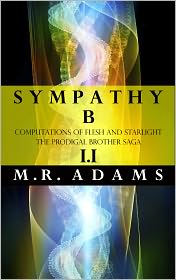 Buy it now
Kindle (FREE!!) | Barnes and Noble | Nook | Kobo

Add it to your GoodReads and Shelfari

Daniel has had a revolutionary breakthrough and has discovered the unthinkable. Superheroes. His mission is to uncover their existence and study their make-up and DNA. I found this idea and the beginning to hold lots of promise, then as I read on, I learned I was wrong.
There are characters who are thrown into the story without warning or explanation. The dialogue between characters sometimes was out of order and at times made no sense. The characters interactions with one another was awkward and confusing.
While the idea for this book is exciting, I found the story and writing did not meet up to it's description and it was quite disappointing. All together, the author has great potential with this book, with a little work and a good editor I believe this can be transformed.
I did finish this book in hopes that the book would end on a better note, but to be honest I was just as disappointed with the ending as I was with the book as a whole. I also think this book could have a much better title, that would attract more readers. All in all I would rate this book a 3/5.

Add me on