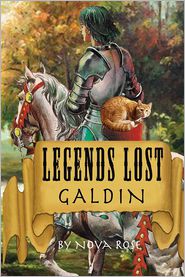 Buy it now at: Amazon Kindle | Kobo | Legends Lost: Galdin
This was a great book for young readers because it's filled with action, adventure and overall a great sense of excitement. You'll be pulled into this fantasy story about Galdin and Nylana. Janet McNulty has a great imagination and you can clearly see this in her writing style. Every image that she portrays comes crystal clear in my mind. I feel like I was sucked into the book from the very beginning in chapter one.
This is a one of a kind fairy tale that can be loved by anyone of all ages. I am sure you will fall in love with each character, just as I did. The characters flow great between the books in the series, and I hope McNulty continues to write.
I found the most exciting part to be when Galdin and Nylana must escape from Lord Stefon. I can't write too much about the story line without giving too much away. I can guarantee if you like fantasy in an extremely imaginative world, you'll absolutely love this series.

Add me on