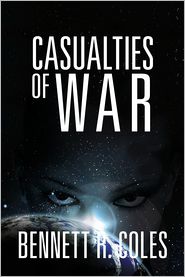 Buy it now at:Kindle | Casualties of War
Add it to your GoodRead's and Shelfari Shelves
Casualties of war was a fascinating story about the pain, physically and mentally, the veterans go through in the war in space. There are many characters in which all play a very important role to the story as a whole. The characters are extremely well written with a thorough background, which helps you visualize and understand each character as an individual.
The story is filled with curiosity and betrayal, but also containing mutual attachment, loyalty and love. I understand this is a second book in a series, following Virtues of War, the first book. I am intrigued enough in this book that I plan on reading Virtues of War to complete the story line.
As if you haven't already guessed, this is a science fiction novel about the investigations of the after effects to the veterans in the war in space. I found this book to be slow at some points, but it always ends up picking back up, and getting more interesting. I wish there was less slow parts, and the exciting climaxes should have been extended. Overall that is my only complaint about the book as a whole. I would rate this book a 4/5.

Add me on