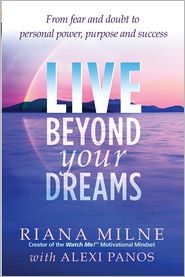 Buy it now at: 
Barnes and Noble Paperback
Barnes and Noble Nook
Amazon Paperback
Amazon Kindle

Smashwords
Have you ever been told you cannot do something or felt like you can't reach your dreams? Have you ever lost motivation to accomplish your goals and are looking for something to get you back on track? Everyone at some point in their lives has felt this way, including myself. I picked this book up and my life changed forever. 
I was completely blown away by Riana's empowering and strong messages throughout her book. This is one of those books that everyone should be required to read just for the fact that it WILL help you. It's not an opinion, it's a fact. It will help you put aside your fears and anger and focus on believing in yourself and achieving what everyone wants, success. 
If you are finding difficulties in reaching your goals and dreams, then this is the first book I would suggest you to pick up. Riana will guide you through the obstacles in your life to overcome them and Live Beyond Your Dreams. Anyone of any age can profit from this highly informative book, and should be part of regular curriculum in schools growing up. 
I have heard great things about Riana Milne's public speaking, and I can only hope that at some point I will get the opportunity to see her speak. Overall I give this book 5/5! 
Add me on