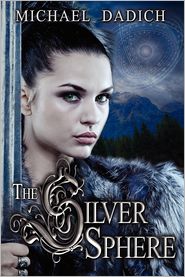 With all the fantasy books out there, it's hard to find a good one that can stand up to the major series like Harry Potter or Hunger Games. Silver Sphere had enough excitement and fantasy that it could easily be powerful enough to be on the popular fantasy book list. 
Six kids are magically transported to the planet Azimuth where they learn what it means to be a Kin to an Assembly member. Of course Malefic has evil plans that are always getting int he way. The goal is to save the world and stop all corruption. 
The author does an amazing job at working the reader into the other world. While reading the book, I couldn't be sure what was going to happen next. It was completely unpredictable, which is always hard to find in a book, especially fantasy stories. 
Every character in this book had so much depth and illustration that I could clearly imagine what sort of person everyone was. Shelby of course was my favorite character, she is a little lost at moments but it never changes how strong of a character she is all throughout the book. I felt everything the characters felt from fear to joy and everything in-between. 
The imagination that the author has for some of the characters is truly amazing, it didn't resemble any other book to where it felt repetitive. Each character seemed original and unique to any other fantasy books I've read before, which is always so refreshing. 
The only negative comment that I have towards this book is that the names of the creatures, and places were hard to read. I ended up making up my own words for the words that I wasn't sure on the pronunciation. It definitely wasn't too much of a big deal for me since it really did not change the way I felt about the story as a whole. 
The climactic build up towards the end of the book, kept me wide eyed and on the edge of my seat. I couldn't turn the pages fast enough. The ending made me cringe with disappointment that there weren't any more pages to read. I hope this book might turn into a series, it just can't stop here! Of course, I give this book 5/5. 
Kindle 
Amazon
Barnes and Noble
Add me on