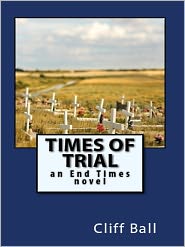 Times of Trial by Cliff Ball
Buy it now at:
Amazon
Barnes and Noble
Smashwords
What is the book about? 
An Arizona church that takes care of all it's members is is dying out. The second family who is in charge at the church has decided to head to Wyoming to escape the persecution of Christians.
What did I think of the book? 
I've never really thought about the idea of Christians being persecuted for their beliefs, and this book shows how scary it would be if it actually happened. Christians aren't usually the ones that you would imagine being persecuted since they are so overwhelming in population, but it's been done before to other religions so I suppose it's not all that unfathomable.
I give this book