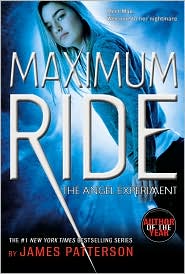 Help support Stuffed Shelves and Buy it now from Amazon or Barnes and Noble
Add it to your GR Shelf
What is the book about?
The first book to the Fugitives series, otherwise known as the Maximum Ride sereis. Max, Fang, Iggy, Nudge, the Gasman, and Angel are 98% human and 2% bird. Angel, the youngest, has been kidnapped by the white coats and their evil Eraser's to be experimented on and turned into a lab rat. The rest of the flock will do anything to get their littlest member back. Along the way they will search for the parents they were taken away from and try to understand the meaning behind the secret facility that they call "the school."
What did I think of the book?
First book in the series, and I'm addicted. This is James Patterson's version of the Boxcar Children. Six kids running from the one person they thought they can trust, while toughing it out on the streets of New York. Anything can happen in just one chapter that will have you second guessing the outcome you had predicted. This is one book everyone should read at least once.
Each member of the flock has a different skill or ability and when combined, they are unstoppable. Together they will find the information they seek, and save each others back at all costs.
I give this book
This is a series, that will never leave my bookshelves.