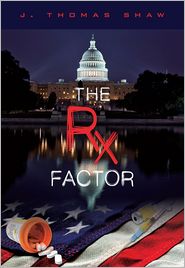 What is the book about?
Ryan Matthews tried to save his wife's life from ovarian cancer by finding a drug to cure her. See, he's a former cancer researcher and he goes to all extremes to find anything that will save his wife. While providing experimental drugs, we learn about drug trials and how or why drugs don't make it to shelves, or even end up blacklisted. Take a ride through the mysterious government cover-up's that will have you hooked on this book.
What did I think of the book?
Shaw writes a fast paced, thriller that can only leave the reader in shock. The whole plot of the book cannot be considered fantasy since it isn't far fetched enough to be unbelievable, which really gets you thinking how much of this book could actually have some truth behind it. It's highly emotional, watching a man struggle with losing his family and then only to have to deal with big time government issues.
Help support Stuffed Shelves and buy it now from Amazon or Barnes and Noble
I give this book