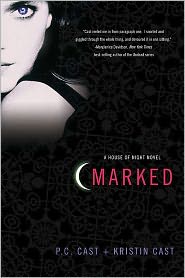 Marked (House of Night Book #1)
Buy it now at Amazon or Barnes and Noble
What is the book about?
Zoey Redbird lives in a world much like our world today, except for her, vampyres have always existed and Zoey has been chosen and marked to join the vampyres at the House of Night. The House of Night is a school for fledglings come to train to become adult vampyres, assuming you can make it through the change, which not everyone does.
Immedietly she figures out that she isn't an ordinary fledging because her mark is colored in and exceptionally special, given to her by the Goddess Nyx. Zoey isn't the only one with exceptional power, she learns that the leader of the elite and private club, Dark Daughters, is misusing her gifts. She must look within herself and find the courage and knowledge to figure out her destiny.
What did I think of the book?
I read this book in one sitting. I was hooked instantly by Zoey's character and the unusual twist on the vampyre world that you won't find in any other paranormal book.
The authors have included a lot of greek mythology which I thought gripped me into the story. I researched some of the greek names mentioned in the book and found it really brought the story together in a very unique way. The authors clearly did some research to put this book together.
I'm already headed out to buy the second in the series,
Betrayed
. I hope it's as spellbinding as the first book.
Check out what other great authors are saying about Marked:
"From the moment I stuck my face in this book it hooked me! Totally awesome new take on vampires! Marked is hot and dark and funny. It rocks!"
-Gena Showalter, author of MTV's Oh My Goth

"Cast reeled me in from paragraph one. I snorted and giggled through the whole thing, and devoured it in one sitting."
-MaryJanice Davidson, New York Times best-selling author of the Undead series
I give this book