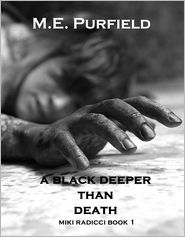 Miki Radicci Book #1

But it now at:
Smashwords
Barnes and Noble
Amazon
What is the book about?
Miki is a sixteen year old artist who has made it famous. Not only is she talented as an artist, she is also a psychic who can feel people's emotional and physical pain.
It's when she accidentally feels the murder of a NYU student, who has an interesting job on the side. Now she draws attention to herself and now the killer if after her! She must hunt down this killer in order to stop the threats on her and her family.

What did I think of the book? 
Miki is in search of answers and she will get them even if it means lying with false ID's and alias's. She is clearly a character that can take care of herself since she's basically been on her own for so long, a curse to having con-artists for parents. She's still a kid though, passing out drunk on the street because no one is there for her as a parent, she finds herself in quite a few sticky situations. 
I found myself quite frustrated while reading this book since it seemed like Miki was making all the wrong decisions. She really needs parents or some guidance in her life. She made life way harder than it had to be, in order to save herself from the killer, without the help from detectives. That's either one really brave or really stupid girl.
I give this book