What is the book about?

Valerie's mom is going out of town and she's leaving Valerie and her younger sister home alone for a few days. Valerie decides to throw a party and invite all her friends. She can't wait to see Adam, the boy she's been eyeing. How lucky does she feel when he shows up to her party. They drink, they laugh, they make out, and then she throws up all over his shoes.

He comes back the next morning determined to finish where the left off. From this part in the story it's he said-she said and everyone seems to be on Adam's side.

What did I think of the book?

The only complaint I have about this book, it was too short. I wish it was a longer book. Otherwise, this book was fabulous. Honest and open, and utterly raw. I enjoy that in this type of book. I enjoyed reading Valerie's story of her struggle during high school while being labeled as "The Rape Girl."

During the end of my high school years, I was raped and stabbed 32 times. I was the rape girl at school. Everyone knew why I didn't wear shorts and long sleeves. Everyone either hated me for drawing attention to myself and being the center of attention or they took pity on me. This book brought all those memories back, and they were so similar to my own feelings from my experience.

Although I had some flashback dreams after reading this book, which was my own damn fault for finishing the whole book before I fell asleep, I still enjoyed reading it. If you or someone you know is a rape victim, this is a good book to read to understand you are not alone.
I give this book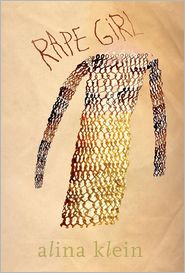 SUPPORT MY BLOG. CLICK THE TWO BOOK LINKS ABOVE TO BUY IT NOW FROM AMAZON OR BARNES AND NOBLE IN ALL FORMATS