What is the book about?

The Diary of Darcy J. Rhone is a prequel to the book Something Borrowed. Something Borrowed is about Rachel, an attorney and her best friend Darcy. They have been friends forever which is clear by the many times they refer to stories from high school. The Diary of Darcy is showing her view of their friendship during high school.

What did I think of the book?

It's a must read book if you have read Something Borrowed. Since Something Borrowed is mainly from Rachel's version of their story. Emily Giffin is an amazing author and I especially enjoyed this short story about Darcy to add into the character from Something Borrowed.
I give this book 
Add it now to your GR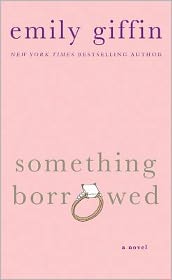 click the book to buy now from Barnes and Noble
DID I MENTION THAT THE DIARY OF DARCY J. RHONE IS FREE NOW AT AMAZON!!!