What is the book about?

After the attack on St. Vladimir's Academy has sent Rose on a mission to find Dimitri in Russia, leaving Lissa behind at school. Along the way she meets some interesting people that lead her to Dimitri's home town. Meeting Dimitri's family wasn't part of the plan, but now that she has gotten to know them she doesn't want to leave. They keep her tied to the Dimitri she once knew, and not the monster he has become. She is convinced to leave Russia by a mysterious man who has seemed to taken a special interest in her.

She travels a long way to finally find Dimitri. Now that she has found him she is having difficulty going through with the plan she set out to do. Somewhere inside him he is still the loving man that she remembers so clearly but something else about him is so cold.

Should he join his evil plans or kill him. Will she make the right decision or just put herself in more danger that might just end her life.

What did I think of the book?

Blood Promise is an amazingly sad book. Rose set out to kill Dimitri but now that she has travelled across the world to find him, she doesn't know if she can go through with it. Her delay in making the decision may just cost her her life now that she's being held captive by Dimitri and his friends.

You can't help but to feel so sympathetic for Rose as she struggles to find something still good inside of Dimitri. I was rooting for her through the whole book to make the right decision. Richelle Mead had me on edge as Rose is held captive because you just can't tell what fate Richelle has planned for her. This book was an extreme page turner that kept me up all night finishing this book. You won't be able to put it down. I guarantee it.
Add it now to your GR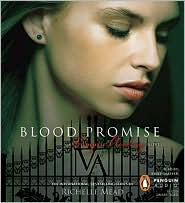 Click now to buy from Barnes and Noble
My GR Shelves