What is the book about?

A personal journal from a girl named Lesley who grew up on Long Island. First she is found as one of the cool girls, then she finds everyone hates her. As she encounters people from her past, she questions them on encounters they had together to find out their view of the situation. She includes bully's and fights from her past, as well as old friends that are now enemies. Lesley includes the conversations she has about the past in her personal journal.

Watch her transform from a rebellious teenager to a grown drug addict. You'll dig deep into her past and watch as she transforms her own life right before your eyes.

What did I think of the book?

What an honest and truly brave book to right. Lesley found herself trapped in a life that no body really wants, and she wrote it all down. When we look through past journals, you can see your mistakes that you made and how you ended up where you did. How much pain and agony she must have been going through internally must have been hard. Drugs and sex, it's all in this book. Everything and anything that Lesley can get herself into, she manages to do.
to your GR list
Buy it now at
Amazon
Barnes and Noble
I give this book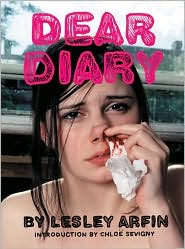 Follow me at GR