What is the book about?



Follow Helen/Heloise from age 15 to 37, bouncing back and forth from present to present time reflecting on how she became a young worker in the sex industry during her twenties. You'll understand and see how she went from being a call girl to a madam who overlooks young call girls. 

You'll see how Heloise deals with her internal issues and her social problems that resulted her making less desirable choices and professions. 



What did I think of the book?

You normally don't read a lot of books about prostitution, call girls or any other such profession. After reading Lippman's story you can understand how one might get themselves in this situation. It's just one version of the many I am sure are out there but I really enjoyed this book. The lack of emotion in the character kind of shows how dead inside she must feel. Despite being treated poorly over and over her response is dead like. She handles everything with a grain of salt, which I guess I expected considering the working conditions and the choices she makes.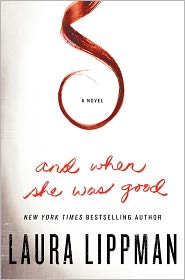 Kobo
Barnes and Noble
Walmart
my read shelf: