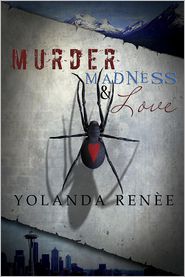 We are first introduced to Detective Quaid and Sarah Palmer in the first book of this series,
Murder, Madness, and Love
and this book is just as good, if not better. It grabs you from the get go and does not let up. I could not put it down from the moment I picked it up.
Sarah's is haunted by visitors in her dreams, and Steven wants to stop it in it's tracks before it does any more damage than it's already done. Despite the fact that Steven and Sarah are off and on again, you can't help but root for them and their odd relationship. Everything seems to be keeping them apart, including themselves.
You can't help but feel the frustration for the characters throughout the book. It kept my attention on the plot, and had me anxious to finish chapter after chapter. I enjoyed this book greatly, and hope there will be a third book in the series. The characters will capture you and suck you into the book, so pick it up and go on a wild ride with Steven and Sarah. I give this book 5/5.
Kindle
Barnes and Noble
Shelfari
GoodReads