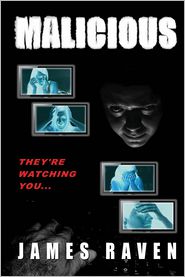 This book has it all, murder, suspense, steamy sex, and mystery. From the beginning of the premise, I knew this was going to be a great book. I haven't read any other book that incorporates online porn into their story, so I found it refreshing to read something that hasn't been commonly written about. It was not written in a disgusting or uncomfortable manner, I found it entertaining and realistic. 
Malicious is very thought provoking because the plot is so plausible considering how technology is in today's time. The characters felt realistic and true in a very human way, and not like any superhero, or super cop in this case. 
Detective Tate is a thirty-three year old divorced mother, who also happens to be addicted to internet porn. She has low self-esteem and having multiple failed relationships under her belt isn't helping. Since she has given up on love, she has become addicted to internet porn. It's a secret until the Slave Master hacked into her webcam and filmed some of her dirtiest moments, and threatened to use them against her. 
This is a great book with no spelling or grammar issues that I found. The cover is so mysterious, you can't help but pick it up and want to learn more about what's inside. I rate this book 5/5.
Kindle
Amazon Paperback
Barnes and Noble
Shelfari
GoodReads