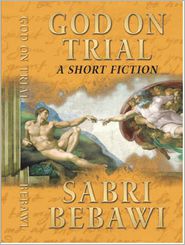 A Short Fiction
I finished this book in one sitting, it was that interesting and engaging. It's a debatable subject, but the author makes it seem reasonable and feasible. The author clearly did a great deal of research making this book seem all that more creditable.
The main character suffers from a mental illness, schizophrenia. Just like the rest of us, he is questioning God and his word. Hence the title, God on Trial. Being schizophrenic seems like a lot emotional up's and down's, and always questioning what's real and not real.
You'll be taken on a journey where what's real and not real, is not always apparent or obvious. Bouncing back and forth between the paranoia hallucinations, and what's perceived as reality, you'll get to know the main characters on a very personal level.
I found this to be a very entertaining read that was extremely eye opening. The book is controversial in a great way, it makes you think. The cover is interesting and makes me curious as to what is contained inside the book. There were no spelling or grammar errors that I saw. I give this book 5/5.
Smashwords
Nook
Barnes and Noble
Kindle
Amazon Paperback
Shelfari
GoodReads