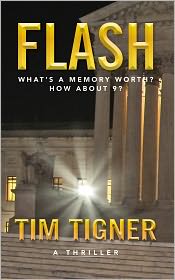 Buy it:
Kindle
Nook
Add it:
Shelfari
GoodReads
Troy awakes in a trunk of a car to the sound of screaming, and finds himself laying in a pool of blood next to a dead body. Troy uses his expertise from being in the military to try and solve the sticky (literally) situation that he has found himself in, along with a petite young woman named Emerald Green.
Emmy and Troy quickly form a very unique and close connection that will aid them in surviving this tragedy together to the best of their ability. Side by side they must find out where they are, as well as what day and year it is. For some reason, they aren't in the location or time period they both think they are in.
They quickly realize it's not the year they thought they were in. They both have lost at least six years, which can clearly be confirmed by looking at themselves in the mirror and realizing they've aged without any knowledge of it whatsoever. Will they be able
Farkas and Luther are behind this whole mess and will stop at nothing to make sure Emmy and Troy are caught covered in blood, in the dead cop's car, with the murder weapon, and corpse, and gunshot residue on their hands, but without an alibi. Will they be able to succeed in setting them up?
In addition to Farkas and Luther, the whole Cayman Police Force is searching for the couple. The police think Emmy and Troy are cop killers on the run, so they are doing everything in their power to find them and bring them in to be prosecuted to the full extent.
The writer's style is very witty and sarcastic which I found to be very humors, it made the book all that more enjoyable. Troy is educated, highly intelligent, demented with a wisecrack sense of humor that he uses to diffuse tension in stressful situations.
This suspense thriller kept me on the edge of my seat, biting my nails reading with anticipation. I loved every second of this book, especially the characters witty personalities. Emmy and Troy went through so much in this book, it makes it all that more amazing that they could keep their dry sense of humor throughout it all.
I loved the way the book is separated by chapters, with each chapter being a different characters viewpoint. Reminds me a bit of James Patterson, with equally as suspenseful and exciting writing style. Tim Tigner does a great job at keeping the reader hooked and addicted all the way to the end of the book. I give this book 5/5 and recommend it to all suspense and thriller readers out there. If you like James Patterson, you'll for sure enjoy this book.

Add me on:









Help support this blog and click on any of the links below for great savings and deals.