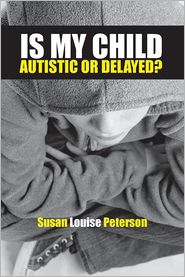 Buy it: Kindle | Amazon Paperback | Nook | Barnes and Noble | Kobo

Add it: Shelfari and GoodReads

My child is not autistic or delayed, but it was good to read about the signs parents should notice if they're child is showing symptoms of autism. Learning the most you can about this subject is smart, because you become aware of signs you can be more prepared if your child starts showing symptoms. There is nothing worse than not knowing and guessing what might or might not be wrong with your child.
This book was very easy to understand, and the layout was simple and made reading this book not only easy, but enjoyable. The author is a school psychologist and has many years dealing with autistic children, so she knows the signs and symptoms well enough to write such an efficient book. The layout was a bit different than I expected, but it got the point across accurately and I found it to be informative to both myself, and my husband.
This book is fairly short and can be read in one sitting by most. It's very informative and I recommend it to any parent, teacher, family member, or friend who has as any questions about the signs of autism. Of course, this is just information to introduce you to the topic, any serious questions you might have should be directed to your family practitioner. This was such a great and easy read I would gladly rate this a 5/5.

Add me on