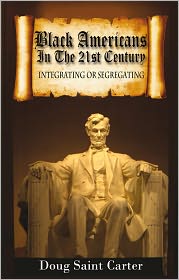 Buy it now at:
Amazon | Kindle | Nook | Barnes and Noble
Add it your GoodReads and Shelfari

This is a hard book to review, without just coming out and saying that I agree with everything Doug writes, so therefore I believe it's a great book. But... If you end up not agreeing with him, then I assume you won't enjoy this book.

This book really engages you to think, about how the segregation is detrimental to everyone. There are many reasons behind this thought, the author will throw at you. It's not all opinions and it's certainly not saying anything negative towards either race. When he does share his opinion it is backed with obvious facts. So as you read further into the book you'll be opened up to more and more things that have been right in front of your face for years.

According to Doug Saint Carter, we are both integrating and segregating African Americans. Before Obama took office, some may have been hopeful that he would promote integrating African Americans, and others together to live more harmoniously. They seem to be more of a road block four us, and we are unable to travel down that road.
As long as grandparents and parents teach their children not to like white people we will continue this cycle, generation after generation. Black's may say they've come a long way, but with negative attitude it seems they have a much longer way to go than they believe. They're the only group of people who are constantly referring themselves as "us," "we," "my people."
I can write all night about the theories and compare them to my own views, but that's not what I want to do. I want you to understand what you're in for before you buy this book, it's obviously not for everyone.

My favorite quote from this book is "Learn to love your white brothers and sisters; don't drink from the cup of bitterness and hate."

Even though in my opinion everyone should read it, with an open mind that is. Read more to find out what Doug feels is our biggest things holding us back from complete integration. I give this book a 5/5 rating.

Add me on