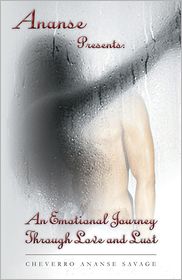 Kindle
Barnes and Noble
Shelfari
Ananse Presents:

An Emotional Journey Through Love and Lust
A mixture of poetry and erotica, this book is written from a very sensual person's point of view on sex. Almost everything about sex is covered in this book in a very professional and mature way. I would also say that this book is portraying what the author wants and desires from their sexual experiences. It goes into great instructional detail of directions, almost to the point of demands, but in a very soft and sensual way. 
It's about more than just sex, it's about love and the thoughts and ideas that run through this authors head when it comes to the opposite sex and what they daydream about. It's about relationships and hopes of what could be in the future. 
Life is a journey and everyone wants someone there to be by their side and love you the exact way you want to be loved. And you want to love someone the way you want to love them, with the respect and appreciation from them as you imagine it should be. 
Talking with others should be easy, words should just flow off your tongue with complete honestly to keep that meaningful experience between two people. Love, honesty, openness are some of the basic keys so having and keeping a successful relationship. 
The words are put together so sweetly and emotional that you can't help but get sucked into the words. It's a great read that I wasn't expecting whatsoever. You'd almost think that the author respects others more than anyone else I've ever met or read of. Everything from the look of your skin, to the sound of your heart and everything in between is discussed showing the attentiveness in a partner that everyone deserves. 
I would gladly give this book 5/5. I greatly enjoyed reading it and would recommend it to quite a few of my friends that I know would enjoy reading it. 
Add me on