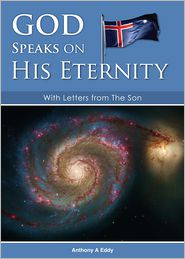 Buy it now at:
Kindle
Nook
Add it to your Good Reads
This book was much like reading a poem, or even parts of the bible itself. The book has an abundance of information about Jesus and the love he has to offer you. This is about God's purpose for us, not about man's purpose for man. 
God speaks to us in many different ways and this book is one of those amazing and unique ways God shows his love. You will need patience and an open heart to read this book. It's so full of God's word, and amazing poetry that any religious, or even non religious people, will find the true beauty inside. 
What an amazing and beautiful way for God to express his love for man. The poem like book also goes into detail of how Satan is full of evil and to ignore his cries and stay on God's side. This book even includes God's end of time prophecy. God has said in the bible that he will destroy the world and there is a poem that I felt shows the beauty in God cleansing the Earth of all evil. It's an amazing concept that God wants us to live in such harmony that he would go to such extents to make this possible for us. 
Read this book to understand the message that Jesus is there for you to love him, and for him to love you back. His love is eternal and will never falter. He will forgive you and take the evil out of your soul and replace it with love. 
I gladly give this book 5/5 because you can't dock points for Jesus.

Add me on