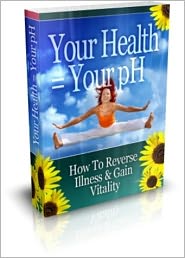 How to Reverse Illness & Gain Vitality 
Buy it now at:
Amazon Kindle
Barnes and Noble Nook 
Add this book to your Good Reads Shelf
This is a book all about the body's pH level and how much it impacts our lives on a daily basis. This book will introduce you to understanding your body's pH level and open your eyes to how your pH level can adjust your feeling of wellness and how it allows certain illnesses to be accepted into your body.  
This is a book everyone should read, and it's fairly short so it shouldn't take any person more than a few days to complete. It's great if you are interested in learning about alternative health care. I know I am always interested in what I can do to better myself and my body with what I have at home, and away from a doctor. But, neither the book or I am suggesting that this is a book to use as alternative health care for serious problems. This book is best used to help small ailments and leave the big stuff to the doctors who get paid the big bucks. 
There are so many different factors that change how we feel every day, and this book will help you see what this means, and how to keep negative energy out and stay positive and healthy. Overall I would give this book a 5/5. It contains an abundance amount of information in a short amount of pages, all in which I found very helpful. 
Add me on