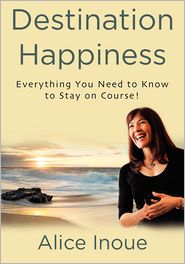 Buy it now at:
Kindle
Barnes and Noble Paperback
Amazon Paperback
The Global Happiness Organization, organized a worldwide survey that showed happiness was rated as the most important thing in life. Most people want happiness in their life and don't realize what they are doing to prevent their happiness. Alice Inoue believes that the more you understand the journey of life the easier it will be for you to reach your "destination happiness."
The title says it all, happiness is the ideal destination in everyone's life. There were some great key points that I learned from reading Inoue's book, I will share just a few. First off, everyone should know that they are in charge of their own life, or as Alice put's it "in the driver seat." No one dictates your happiness, and no one can change your life to be more happy, only you can drive your car to destination happiness.
Second, you are wasting your life if you are whining about how unhappy you are. This book will go over some great techniques to help you avoid feeling sorry for yourself and making yourself unhappy and turn things to be happier. Everyone can get use out of this book with chapters that go over more specific topics that cause unhappiness, like unexpected events (i.e. death, fired from a job, car accident, and theft)
Third, and my most favorite key point is that everything happens for a reason. If you can believe this, you are already half way there. Unhappiness is temporary and can be changed at any given moment.
I greatly enjoyed reading this book, as it has such amazing advice that I believe to really work to aid your life into happiness. There were many other key points that I took from this book and applied them to my own life, and I believe everyone out there can do the same.
This is a book that everyone should read at least once, and implement the advice into your own personal life. So, if you're unhappy or maybe know someone who is, I guarantee this book will change their outlook on life and give them the happiness they are in search of.
I gladly give this book 5/ 5 and will be recommending this to many people I know could benefit from Destination Happiness. This is a book that should remain affordable to appeal to a wide variety of readers who will be more likely to pick it up if it has a reasonable price. I know this is a deciding factor for me when I am reading similar books, and it's always so disappointing when I cannot afford a book I believe may help change my life.
Add me on