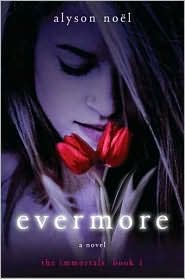 Buy it now
Kindle
Amazon Books
Nook
Barnes and Noble Books
Add it to your Good Reads Shelf
By page twenty-eight with a reference to Friends, I knew Alyson and her books were going to get along great. 
"I was raised by a drag queen and a romance novelist," Miles says, reaching over to steal a candy corn of the top of Haven's pre-Halloween cupcake.



"Sorry, that wasn't you, sweetie, that was Chandler on Friends." Haven laughs. 
Ever is a popular blonde bombshell living a normal teenage life in Eugene, Oregon until one evening that changes her life forever. Now, she's living with her Aunt Sabine, in Laguna Beach, CA. Sabine  didn't exactly sign up for a teenage daughter, but will do everything in her power to insure Ever has a loving family member to come home to. 
Ever's life has changed dramatically and that includes her social status in high school. She's seen as an outcast, the complete opposite as her reputation at her other school. She'd much rather pop her earbuds in and listen to her music under the comfort of her hoodies then worry about popular versus unpopular students. 
Damen is the one to break her of her hoodie and iPod obsession, and everyone is glad she's finally coming out her shell and letting her personality shine. Ever has a gut feeling Damen isn't being one hundred percent honest with her and she's going to dig into his life until she feels less uneasy about her mysterious new boyfriend. 
There's magic flowers that appear out of thin air but she doesn't think it's an extraordinary magic trick. He seems to know everything about everything with knowledge way above his age, it almost seems like he's a vampire. She knows something is weird when it seems that he purposely avoids Riley, Ever's ghost sister. 
Everything is a mystery and it seems life is just a constant quest to find the truth, is Ever strong enough to keep on when everything keeps dragging her down. Will she learn to trust her instincts and avoid further problems? I'm already opening book two Blue Moon. 
I give this book 5/5
Add me on