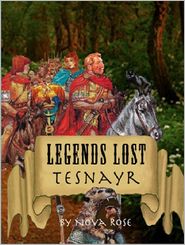 HELP SUPPORT STUFFED SHELVES AND BUY IT NOW FROM BARNES AND NOBLE OR AMAZON
What is the book about?
Jarown is in extreme rush to save his friend from Blynak's attack but finds he is unfortunately too late to do anything about it. Jarown's last words are a reminder to protect and save his daughter Nelyn no matter what.
Over a decade later unknown creatures on a ship are tossed in a storm at sea, the unthinkable happens and lightning strikes the ship mast. Escaping death from a sinking ship, Nigilin finds a man on a beach who is willing to take him in and go to town to find someone who can attend to the man's injuries. Tesnayr slowly recovers but the emotional scars are still left on his mind and he starts building traps for the unknown and strange creature. Suddenly he is attacked by a strange creature and discovers what they are.
What did I think of the book?
This isn't quite my type of book, but I continued to read it through to see if I could find something enjoyable in the book. Although it is extremely imaginative, it is not a book that I would have chosen at a book store. For those who are into extreme sci-fi/fantasy then this is definitely for you!
I give this book
my read shelf: