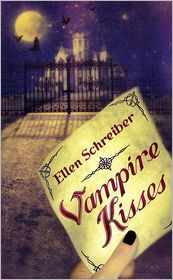 Vampire Kisses Book #1
Buy it now:
Amazon
Barnes and Noble


What is the book about?
Even in Kindergarden Raven knew she wanted to grow up and become a vampire. It's no secret that Raven is dark and mysterious, the whole town knows her for her looks. Even her family thinks she's a little weird for how she dresses. 
Trevor is one of the kids who is always getting on her case, they grew up together since kindergarden so it's been years of back and forth bickering. Raven feels like there's no one in town who is like her. 
That is until Alexander moves into the creepy mansion in town that has been empty for years. He's dark and mysterious just like Raven, he also is very formal and proper. Alexander sends a hand written invitation for dinner to her home for their first date. 
Raven is excited to finally have someone in town who is like her, and might also be a vampire. She has to get him to bite her, so they can live undead together forever. 
Alexander and Raven are smitten with each other, until Trevor gets in the way and ruins everything. In the end, does she really know Alexander? 
What did I think of the book? 
It's always so funny when the characters go by all the classic myths that describe a vampire. Raven is pretty sure that Alexander is a vampire, and Ellen Shreiber wants you to think so too. She adds in quirky little comments like, 
"I'm always hungry" I flirted 
"I'm rarely hungry, but always thirsty" 
"I want a relationship I can finally sink my teeth into" 
I thought Shreiber has a real talent for writing cute young adult books. Raven is naive about the vampire world, and it's funny to watch her test out all the classic vampire myths to see if she's become a vampire. 
The ending was quite unexpected, I thought for sure I knew Alexander wasn't a vampire, but then the last paragraph of the book makes me wonder if I was wrong the whole time reading this book. 
Only 3/5 I don't know if I will continue this series. 
my read shelf: