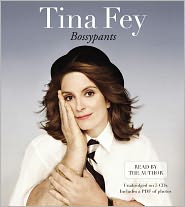 Bossypants Book Review
Buy it now:
Amazon
Barnes and Noble
This book is all about Tina Fey's life experiences. Boy, is she funny! Have you seen her on Saturday Night Live? She's fabulous, and it's not just because she resembles Sarah Palin. She also has her own show, 30 Rock. Most people don't understand the title, don't they know the title is referring to an address: 30 Rockefeller (in the Rockefeller building) in New York. 
Tina Fey talks about growing up, her time on SNL, how 30 rock came to be, motherhood, and everything else that happened in her life. I read this book, and then later listened to it on audiotape. If you get a chance to listen to the book, I would highly recommend it. Tina narrates the book and she is just fabulous! She knows how to grab you laugh.
I was cleaning the house, with my headphones in, listening to
Bossypants, 
laughing out loud. You must read. You must listen.
Has anyone else read or listened to this book?
I give this book
my read shelf: