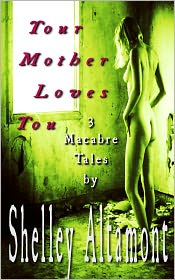 What is the book about?



Three short stories that will offend the squeamish and give nightmares to the children. Each story contains horrific descriptive senarios that is only meant for the adult reader who can handle horror. 



What did I think of the book? 

As I would not cateogorize this as horror myself, I can see how it ended up being categorized as such. It has no other place but to be in horror. These three stories are very descriptive and will have you sitting and contemplating the meaning behind the writers tales. Shelly Altamont writes these stories almost in a form of a poem so they can be taken to mean different things by different readers. They are extremely personal and raw, so the warning was said, now are you ready to read it? 
Support my blog and buy it from Amazon or Barnes and Noble
my read shelf: