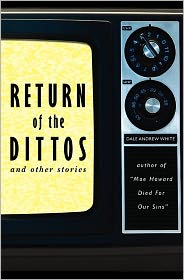 Help support Stuffed Shelves and buy it now from Amazon or Barnes and Noble
What is the book about?
A collection of short stories from the author Dale Andrew White. A wide collection of different stories that will appeal to a variety of people. Dale's stories vary from dark and gloomy to laugh-out-loud humor, which shows how versatile the author really is when it comes to his writing style.
What did I think of the book?
My favorite short story in this collection was "Labors of Peon" a story about a bag boy who fights for his right to accept tips from customers.
You'll lift an eyebrow and chuckle at "Infatuated." You'll laugh out loud at stories like "Little Birdie" and "The Simpkins Revelation." Enjoy all twenty stories all at once or read them throughout the day, either way you'll love this book. Each story is just long enough to contain enough detail but short enough to read while riding the subway.
I give this book