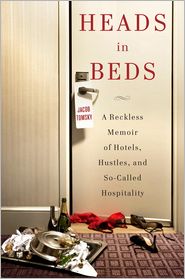 What is the book about?


This is an informative and factual book on the hospitality world of hotels. Jacob pursues a job at a very pricy hotel thinking it will be a job to pay the bills. He starts out as a simple valet and over a short period he moves up into the Front Desk and then eventually leading him to a Management position.




What did I think of the book?


Jacob Tomsky is extremely witty and funny with his memoir of his hospitality experience. I thought this was an amazing read. I recommend this to anyone who's looking for a funny read or for the constant traveler who is always finding themselves experiencing some interesting service in the hotel industry. 




Just learning about what happens behind the desk at the hotels you stay at, is humor enough for me and Tomsky's story is definitely worth reading!  This is the book that should be offered to all guests in a hotel during their stay.

Help support my blog and buy it now in hardcover at Barnes and Noble or click 

here to download for nook.  
And of course you can buy it in all formats at Amazon.
Add the book to your GR shelves now!!! 
Check out my GR Shelves