What is the book about?

Their father has just been killed in a fatal car accident and their mother decides to move them back to their religious fanatic grandmother who has never approved of their lifestyle their mother, Corrine has lived. Cathy, Chris, Cory and Carrie are all locked in the attic at their grandparents but they aren't sure why. Read this book to find out how the 4 siblings cope with being imprisoned in an attic.

What did I think of the book?

I have read this book many many times and every time I find it a little bit more disturbing than the last time I read it. The pain. The agony. The confusion. These poor kids, their just flowers in the attic.
Add this book to your GR
My GR shelves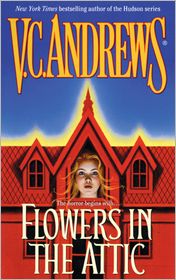 Support my blog and buy it now from Barnes and Noble