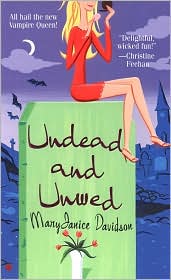 Undead/Queen Betsy Book #1
Buy it now:
Barnes and Noble
Amazon
What is the book about? 
Betsy Taylor (Elizabeth Taylor) has jut become a vampire after being hit by a car and she's not afraid to tell anyone who will listen to her. She is a girly girl who is obsessed with designer shoes. After waking up in a morgue she quickly goes to rescue her Jimmy Choo's at her evil Step mother's house.
After breaking her news to her best friend Jessica and her Mother she is given all the support she needs to continue living "undead.
Eric Sinclair has introduced himself and informed her that she is destined to do great things. He even tries to bribe her with fancy designer shoes. She quickly learns that she is not like the usual vampire. Sneezing in the face of anyone who throws holy water at her and laughing at the evil Nostro she has drawn lots of attention to herself.
What did I think of the book? 
The book is so witty and funny I couldn't put it down. I was literally laughing while reading this book. Mary Janice Davidson knows exactly how to appeal to her readers! If I had been turned vampire, I would go and rescue my Jimmy Choo's from the evil step mom too! This is a great start to a great series!
I give this book