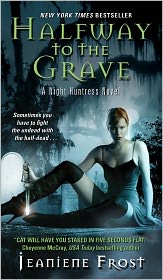 Buy it:
Barnes and Noble
Amazon
Kobo
Wal-Mart
Add it: 
Shelfari
GoodReads
What is the book about? 
Cat is a half vampire half human bad ass, who uses her body and her sexuality to hunt down bad and evil vampires, and has been for the past six years. Her mother has taught her to hate the side of her that is vampire so she is determined to kill them all and will stop at nothing until she has hunted down as many vampires as she can.
That is until, she is found by a Master Vampire named Bones, formally known as Crispin, who is so intrigued by her that he offers to train and help her. He is unlike any other vampire she's ever met, and is giving him a chance by not killing him. Assuming she could in the first place. It's her second nature to hate vampires, since it's been drilled into her from her mother of so many years.
She doesn't warm up to Bones very quickly, but they eventually they become a cozy duo which of course leads to much much more. He helps her dip into her vampire abilities and pushes her to be the hunter she's striving to be. They go through many problems and find themselves in quite some sticky situations.
What did I think of the book? 
Jeaniene Frost does an amazing job at putting a new twist to the other vampire books that are out there. I was instantly hooked from the second I opened the book and the end was such a cliff hanger, I immediately started book two, One Foot In The Grave at four in the morning.  

Cat is such a lovable character, you can't help but like her. Not only is she innocent and unknowing about her sexual endeavors but she's a total bad-ass when it comes to capturing vampires and outing them for who they really are.

I couldn't decide if I liked Bones or not since in the beginning he seems like such a jerk with ulterior motives that weren't all that clear at first. Once you get to see his character, and you learn he has Cat's best interest at heart, you can't help but melt at what an amazing character he is.

I soon fell in love, and I expected Cat to as well. I was surprised when she seemed to dislike him so much when he was trying his best to show he wasn't like all the other vampires she has hunted in the past. On the other hand, I can see why she didn't warm up to him instantly since he's cryptic in his intentions and seems to hold a lot of secrets. Plus Cat is so blinded by her hatred towards vampires, which is so engraved into her she almost can't help it.


I give this book