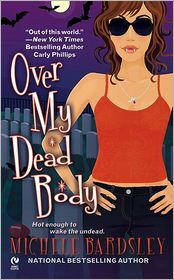 Over My Dead Body (Broken Heart, Oklahoma Book 5)
by Michele Bardsley
Buy it now at: 
Amazon
Barnes and Noble
What is the book about?
Simone Sweet, newly turned vampire and resident mechanic of Broken Heart, Oklahoma is no stranger to trouble. After being abused and nearly murdered by her ex-husband, she escapes to Broken Heart with her young daughter, Glory, who has not spoken a word since that fateful night. Seeking a safe haven, Simone never counted on becoming one of the undead. Broken Heart has since become a sanctuary of sorts for the paranormal community, and Simone has settled into a normal life.
Braddock "Brady" Hayes is a former PRIS (Paranormal Research and Investigation Services) operative who is in Broken Heart to help install a security perimeter around town, an Invisi-shield, which when fully operational would make Broken Heart "disappear" and thereby protect all who live there from those who would rather rid the world of paranormal beings. Brady is always willing to consult with local mechanic, Simone, about the Invisishield, but he's more interested in getting up close and very personal with her.
He's a tall, dark, handsome and oh so buff former military man, who is ogled by every woman in town, but he only has eyes for Simone. He definitely makes her undead heart beat faster, but she's overly cautious about becoming involved, for many reasons: her last relationship was a disaster, to say the least; and becoming intimate with Brady—a human—is not a good idea, since they would be bound together for 100 years; and Brady is way too perceptive and Simone doesn't want him learning the truth about her past. But Simone's past is about to catch up to her in a big and very bad way!
When someone starts murdering vampires, the citizens of Broken Heart must band together to find the culprit. Simone seems to be connected to murders. Or is she simply in the wrong place at the wrong time. If she is to save herself and ultimately Broken Heart, she must trust Brady and tell him about her life before she came to Broken Heart. She may be surprised how closely Brady's own past is linked with hers and the evil that is determined to destroy them all.
I give this book