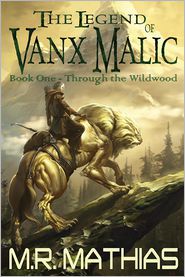 The Legend of Vanx Malic
This book is definitely categorized as a action packed fantasy book, which I enjoyed greatly. It drew me into a whole new world, right away. It has a great opening that really sets the mood to the book. There are so many creative aspects to this book, the authors talent really shines through.
You'll be taken on a wild ride through the forest with poisonous flowers that behave like snakes, wizards, half-troll creatures who ride wolves, and mysteries that only Mathias can describe. I truly felt like I was companion to Vanx, riding along side with him through his adventures.
The book is full of a wide variety of strong characters with a plot that is unrelenting. I was very impressed by the amazingly descriptive and creative writing that instantly enthralled me into this universe that Mathias created. There won't be a moment where you aren't entertained as you go on this exciting adventure.
There's even an adult theme to a good portion of the book, keeping this book from feeling anything but juvenile. It has a great length to the book, containing enough pages to keep you entertained for hours, but not overwhelming you with vast amount of pages.
The cover grabbed me from the beginning. The lack of spelling and grammar issues made this a refreshing read. I'd rate this book as a 5/5. 
Amazon Kindle
Amazon Paperback
Barnes and Noble
Shelfari
GoodReads