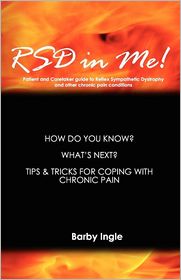 RSD means Reflex Sympathetic Dystrophy. Now I'm not going to go into symptoms, cures and causes, because that's for you to find out when you start this book. Everything you need to know is contained in this book.
This book was simple and straight forward, leading the reader to better understand RSD. The author includes many personal stories about her struggles to be diagnosed, and how she copes with RSD on a daily basis. It's a great book for someone who doesn't feel they are being diagnosed properly, or has just recently been diagnosed with RSD. I personally do not suffer from RSD, but it was interesting to learn about those who do, and the pain they deal with daily.
I found quite a few errors in spelling, including the spelling of the acronym RSD, it was frequently written as RDS. The cover is colorful and eye catching, so I'm sure anyone who's interested in this will absolutely pick this book up. I give this book a 4/5.
Kindle
Amazon Paperback
Barnes and Noble
Shelfari
GoodReads