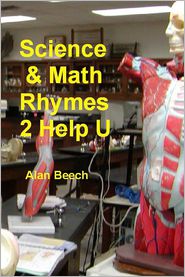 Reading the intro is a must. Without having read the intro, the reader would probably not make the connection that reading the book to help memorize or remember the items is what the author intended.
I found several of these math and science aids beneficial with several that could help some of the younger readers. The shorter ones I found to be the most interesting and easy to remember. I particularly liked 99. Quadratic Solution Equation.
The book is worth the casual read and the reader may want to have a pen and paper handy to jot down the ones that strike your interests.
There were no spelling or grammar issues that I noticed. The cover is very interesting, and intrigued me. I would give this book a 3/5 stars, mainly for being creative.
Amazon Kindle
Barnes and Noble
Shelfari