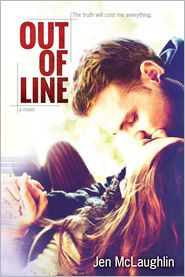 For all you woman out there, that like a sexy tattooed Marine who will make your heart throb, this is a book for you! It's a sweet story about Finn and Carrie who meet in a weird coincidental way after a frat party. Carrie has only wanted to enjoy her college years to the fullest, but she's been a senator's daughter, and has been scrutinized and judged before she can open her mouth. Can't she live a normal life despite her last name?
Carrie is a good girl, with a good head on her shoulders and no intention of becoming anyone other than who she already is. The only thing holding her back is the constant surveillance she's under because of her fathers position as senator. 
Finn is the one to give her the normalcy she's looking for. Even though he first thought Carrie was a rich snobby girl who lived in riches, he soon realizes his first impression of her is completely wrong, and stops fighting the love he feels for her. You'll soon read about how he is a mother watering sex god that will induce dirty thoughts and wet panties. Carrie and Finn are clearly meant to be together. You don't have that kind of chemistry without being meant for one another.
The story line flows great and the author gives you a great sense of who the characters are, and I could clearly picture them in all their half naked glory. It captivated me from the beginning and I read the book from cover to cover in one sitting. It's fast paced, and keeps you wanting more after each paragraph. I give this book 5/5, but be warned, it's full of R rated scenes that will have you melting as you get to know these two characters. 
Amazon Kindle
Amazon Papberback
Kobo
Barnes and Noble Nook
Barnes and Noble Paperback
Shelfari
GoodReads